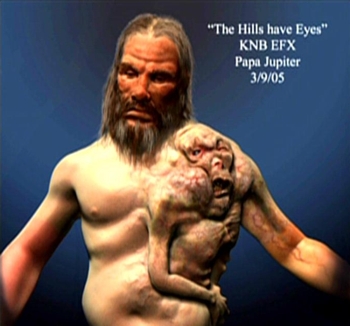 Papa Jupiter is the father of the Hill people. While he doesn't appear to have any birth defects, he actually has a parasitic twin under his coat. Papa Jupiter appears to attack the patriarch of the stranded Carter family, Bob Carter, at the Gas Haven rest stop. Bashing Bob's head against the windshield of a car, Papa Jupiter knocks him into a delirious state and drags him off to the mutants' lair with fellow mutants Pluto and Lizard.
After Lynn, Ethel and Bob Carter are all killed and Doug Bukowski leaves the trailer with the dog Beast to search for his daughter Catherine, who was abducted by the mutants, Papa Jupiter sneaks back to the trailer and steals Ethel's body. Ethel's son, Bobby Carter, later finds Papa Jupiter in the hills devouring Ethel's heart, accidentally gaining his attention as well. Chasing Bobby back to the Carter's trailer, Papa Jupiter nearly captures him and his sister, Brenda, but the two escape. Trying to chase after them, Papa Jupiter accidentally sets off a trap the two set, which causes the trailer to explode with him in it. Papa Jupiter manages to survive the trailer explosion, but is severally injured and left impaled through the chest by shrapnel and is left helpless to defend himself when Brenda Carter kills him with his own pickaxe.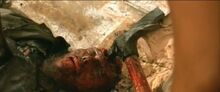 The only time Papa Jupiter's parasitic twin is shown is in a piece of concept art in one of the movie's bonus features.
Papa Jupiter is the only mutant who has no deformities on his face .